Description
A horizontal band sealer is a packaging machine that is used to seal bags or pouches horizontally. It uses a heated sealing band or wire to melt the edges of the bag together, creating a tight seal. This type of sealer is commonly used in industries such as food and beverage, pharmaceuticals, and cosmetics.
The machine operates by feeding the bags or pouches through a conveyor belt, which then moves them past the sealing band. The band heats up to a high temperature and applies pressure to the bags, melting the plastic and creating a secure seal. The conveyor belt then moves the sealed bags or pouches out of the machine and onto a collection table.
Automicom horizontal band sealer is ideal for medium to high-volume packaging and sealing thermoplastic materials like polyethylene, plastic-lined foil, and gusseted bags of almost any size or length.
The conveyor belt is speed adjustable and can extend to accommodate different sizes of packaging 

Band sealer working speed is 5 times faster than impulse sealer. 

Sealing width is up to 10mm, tight and secure for packaging 
Temperature control is up to 300'C, able to seal up to 0.8mm bag thickness. 

The printing function is available for manufacturing date, expiry date, etc. 

Stainless steel structure, long-lasting and anti-corrosion 

Temperature control and speed control screen

There are 2 models of horizontal band sealer BS310 (embosser date coding or hot stamp date coding) and BS310I (ink wheel printing).

Band sealer comes with 5 spare sealing lines.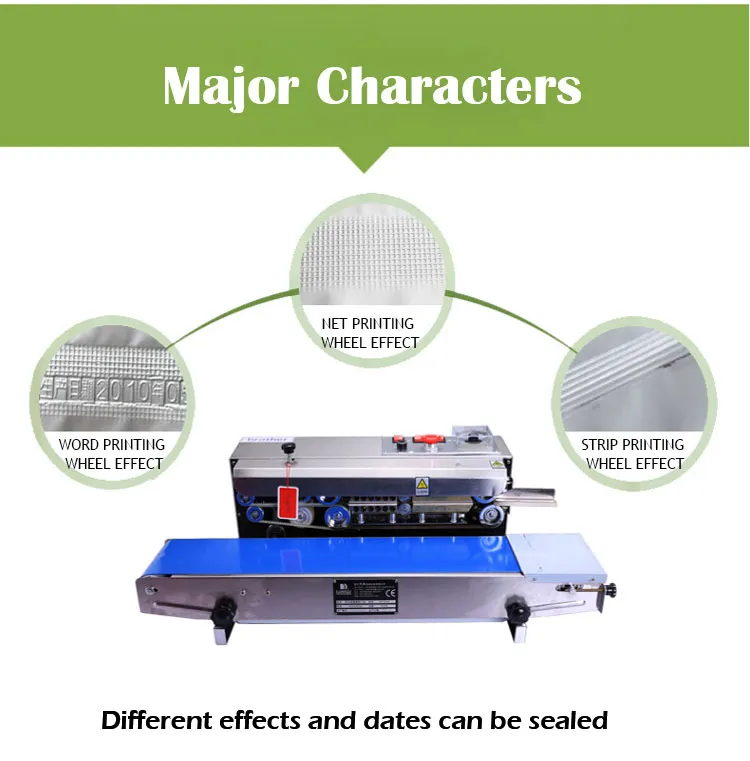 Horizontal band sealer allows for easier loading and unloading of bags, as the bags can be laid flat on the conveyor belt. Additionally, horizontal sealers are able to seal a wider range of bag materials, including thicker materials that vertical sealers may not be able to handle.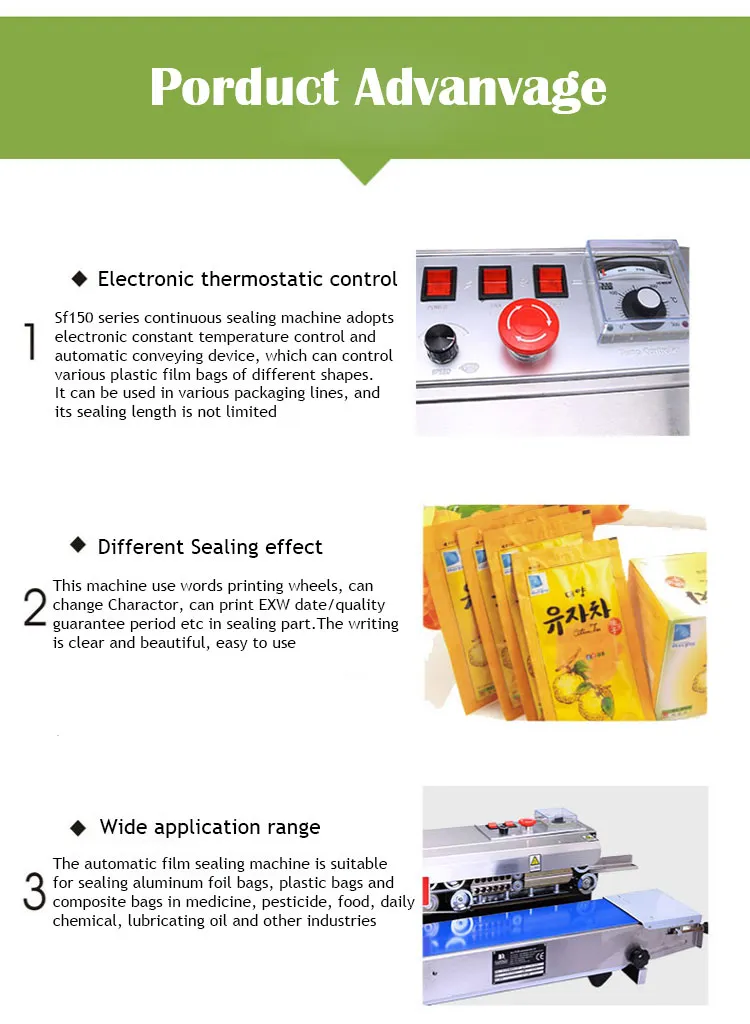 Horizontal band sealer is a reliable and efficient packaging machine that can improve the speed and quality of your packaging process. With its ability to handle a wide range of bag materials and sizes, it is an essential tool for many businesses looking to streamline their packaging operations.
| | | |
| --- | --- | --- |
| Model | BS310 | BS310I |
| Electric current | 220V/50Hz | 220V/50Hz |
| Power supply | 500W | 830W |
| machine size | 81*37*32cm | 950*420*380mm |
| Weight | 35kg | 46 |
| Conveyor belt limit | 5kg | 5kg |
| Bag length limit | Unlimited | Unlimited |
| Sealing width | 10mm | 10mm |
| Material | SS304 | SS304 |
| Sealing speed | 0-24m/min | 0-24m/min |
| Printing type | hot stamp, 1 line | 2 lines, 15 letters |
| Temperature | 0-300 degree | 0-300 degree |