Description
The Industrial Series Meat Slicer is specially designed and developed for commercial use, suitable for business thanks to its sturdy and durable chassis, equipped with a convenient grinding wheel system. Available in 2 machine sizes to choose from 10inch and 12inch.
Blade size 10-12 inches, versatile use
Ease of use with just one button, absolutely no hassles
The thickness and thinness of the meat can be adjusted after cutting
Easy to measure the thickness of meat
The machine is fitted with a grinding wheel that maintains the sharpness of the blade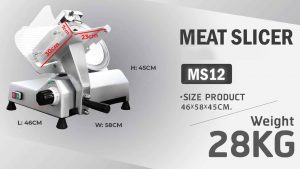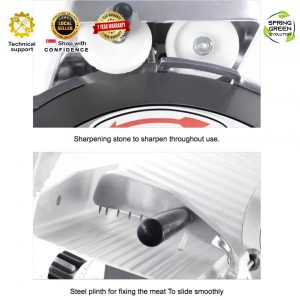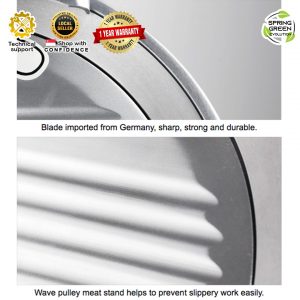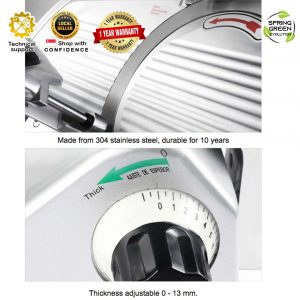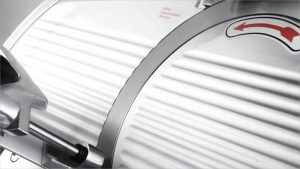 304 stainless steel, durable up to 10 years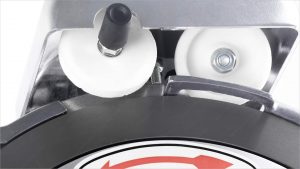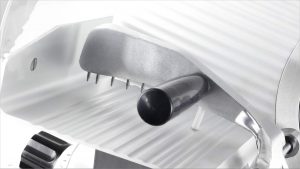 Sturdy clamps help slide the lump of meat at will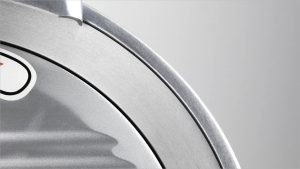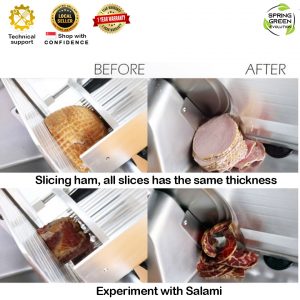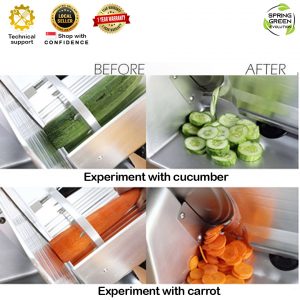 Outstanding features of meat slicer MS10-12
Made of solid 304 aluminum, excellent quality, hygienic texture suitable for preliminary food preparation
Real copper motors increase the durability of the machine compared to aluminum engines
Nice body shape with the right size during use
The power switch has a protective cap, preventing water from entering
Compact size makes it easy to repair and replace parts
Easy to use, user can adjust the thickness of the meat slice from 0-1.8 cm.
The wavy trough is designed to help separate the slices of meat easily after slicing
Adding a grinding wheel system right in the machine, making the blade always sharp
The slices of meat, after being sliced, have the same shape, size, look very delicious, can be displayed on a plate to serve in hot pot restaurants, grilled, dipped, sautéed …
All products are quality guaranteed and tested by experts
1-year warranty with spare parts
Technical specifications
| Meat slicer | MS10 | MS12 |
| --- | --- | --- |
| Electricity supply | 220V | 220V |
| Wattage | 240W | 270W |
| Cutting blade size | 10 inch | 12 inch |
| Size machine | 48 x 48 x 42 | 46 x 58 x 45 |
| Thickness adjustment – thin | 0 – 13 mm | 0 – 17 mm |
| Weight machine | 26.5 kg | 28 kg |
WARRANTY
(Product Warranty Conditions)
Warranty for a new device from the date of purchase is 1 year. This warranty does not cover any products or parts. That has been damaged or damaged due to
1. There are abnormal conditions in the form of a broken, broken, chipped, bent, collapsed, deformed, cracked, pierced, missing part.
2. The product has been modified, or repaired by someone other than the company service center.
3. There is a condition that should not occur with normal use or incorrect storage, such as water stains, rust marks, moss, burns
4. Products have been used incorrectly or have incorrect storage. Or an accident with the product
5. Damage caused by connecting peripherals
6. Product damage due to external factors such as power failure, overload, lightning etc.
7. Damage caused by natural disasters
8. Damaged products resulting from neglect not to clean after use
*** Note
– If the product is not within the warranty terms, customer can send the machine to our service center to repair at a cost
HOW TO ORDER
 Order by phone at: (+65) 88914519
CONTACT US
Spring Green Evolution Pte Ltd
Showroom: 66 Tannery Lane, Sindo Building, #04-09. S347805
Telephone/WhatsApp: (+65) 88914519. Email: info@sgesg.com
Facebook: www.facebook.com/SGEsg
Website: www.sgesg.com