Description
Clothes Vacuum Bag
Clothes vacuum bags or vacuum storage bag for clothes is perfect solution for clothes packing when travelling or moving house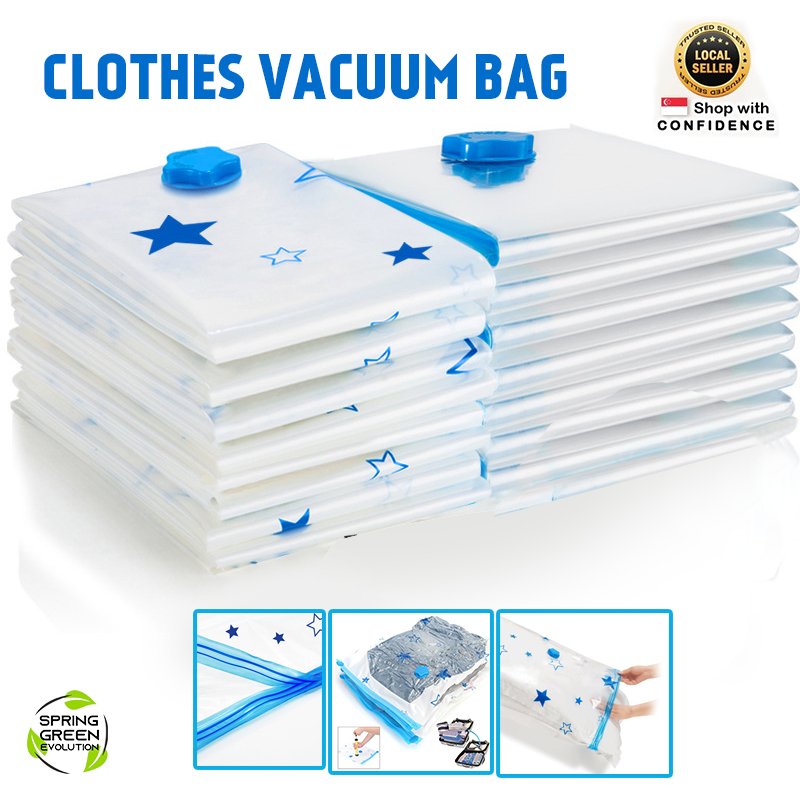 PRODUCT SPECIFICATION
There are multiple sizes of vacuum storage bags for your choice
| | |
| --- | --- |
| Size (cm) | Size (inches) |
| 60×40 cm | 23.62×15.75 inches |
| 70×50 cm | 27.56×19.69 inches |
| 80×60 cm | 31.50×23.62 inches |
| 100×70 cm | 39.37×27.56 inches |
| 100×80 cm | 39.37×31.50 inches |
Features
Material: PE (Polyethylene) + PET (Polyethylene Terephthalate) – High quality materials 

Color: Transparent 

Functional design: Foldable

Size: 60*40/ 70*50/ 80*60/ 100*70 / 110*80

Bag storage is perfect solution for space organizing, travel, business trip, or moving
Thick, durable, double sealed. Give perfect protection for your items, long-lasting for storage
Leak proof, sealed air valve and bilateral seal, protect your items from every impact from the outer environment. Best vacuum bags for travel
Reduce the room required for storage up to 3 times, easy and simple to use.
ATTENTION
Follow these steps for the best protection

Items should be completely dry before packing.
Fold your items as neatly and as flat as possible for best results and to minimize wrinkling.
Ensure that the zip seal is completely closed before starting the vacuum process.
Position the air pump over the valve and use the vacuum to suck the air out of the bag.
HOW TO ORDER
 Order by phone at: (+65) 88914519
CONTACT US
Spring Green Evolution Pte Ltd
Showroom: 66 Tannery Lane, Sindo Building, #04-09. S347805
Telephone/WhatsApp: (+65) 88914519. Email: info@sgesg.com
Facebook: www.facebook.com/SGEsg
Website: www.sgesg.com